DBB Worldwide Communications Group Inc explore team work, communication and collaboration all with the frenetic energy and excitement of an F1 race track with Catalyst team building activity Flat Out Formula One.
Preparation & Planning
The teambuilding began with each team receiving a briefing booklet with plans on how to mark, label and cut various parts of their Formula One car, from flat cardboard. Teams excitedly got working on building parts such as the Cockpit, Engine Box, left and right Panel and Sills, the bonnet, nose cone and front and rear aerofoils.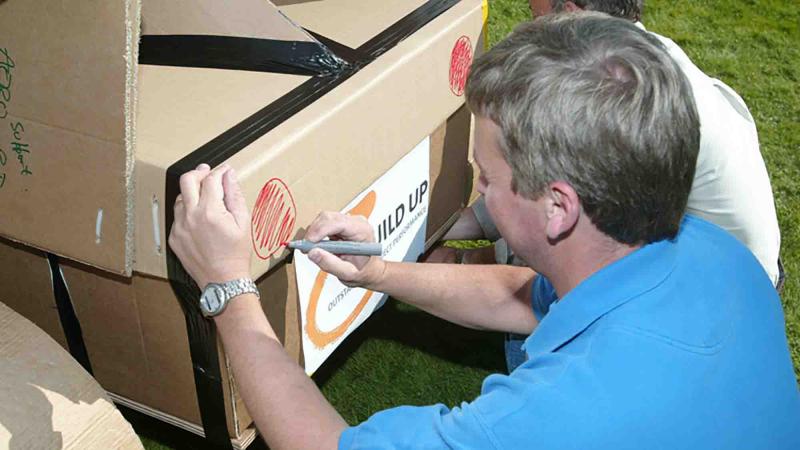 Construction - Developing Team Spirit
Once the parts had been constructed, teams attached the cardboard wheels to the axels on the main body chassis. Then the steering parts attached to the front axels were tested and the car required just one more element – pimping! Various racing paraphernalia along with balloons and DDB logos were used to decorate each of the teams' cars. This created a sense of belonging, team spirit and a sense of accomplishment to ensure teams were suitably fired up for the ensuring races.
Racing - The Teams Compete!
After a parade and debriefing of the team experience came a series of heat races. On arrival at the Pit Stop, the driver was swapped and the whole team turned the car 180 degrees to leave the pit stop and continue the race. This is where gains in time were made or lost, depending on time management, efficient teamwork and a drive for success. Performance in the heat races means only two teams make it to the final, with one overall team succeeding to the champagne podium finish!