It is always a challenge to see if you choose a live gathering for Christmas or if you do an online event. Or maybe you want to do both! But what are you going to do then? It has been a tradition for a long time to organize a nice Christmas drink at Christmas. Only more is possible. An activity where fun comes first, but at the same time you learn more about your colleagues in a fun and informal way. Below we give 2 options for a face-to-face meeting and 4 if you still choose to organize an online activity with all colleagues. regional office locations or in different countries! Do you like the theme, but want a personal or hybrid solution? Please contact us to see how we can tailor this experience to your team.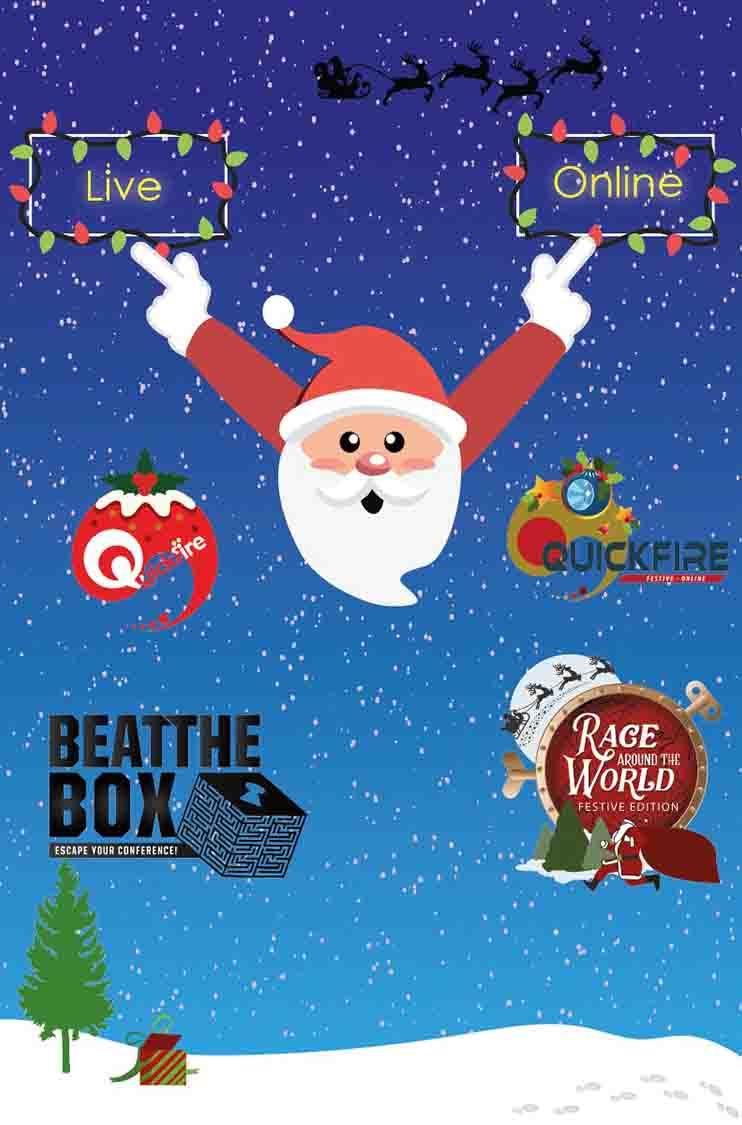 2 options for face to face team building activities
At Beat the Box, the game starts as a competition. By solving a series of escape room-like riddles you and your team get one step further. The time is ticking and you have 90 minutes to find a secret code. Halfway through the game, everyone gets stuck and you can't continue with the information your team has. Then it becomes clear that it is not a competition against each other, but that you need each other to beat the time. So work together! Completely in style with the Christmas spirit.
At Quickfire, you and your team determine which assignments you take on. The tablet contains a total of more than 100 team assignments. There are 3 categories namely Active, Creative and Mental. Within these categories, there are 3 levels and the assignments get more and more difficult. Only consider risk and reward. Each assignment will initially cost you points. If you get the assignment right, you will receive more points than it cost. All assignments are dedicated to Christmas and a Christmas outfit is certainly an advantage.
4 options for online team building activities
This is by far our most popular Christmas activity ever. In the past year alone, it has been played more than 500 times worldwide. It is an interactive tour across 6 continents. Each team chooses 1 Santa and together with the Christmas elves you go out to give presents to children while you carry out all kinds of assignments that are all about how people around the world celebrate Christmas.
Add a CSR component to the next Christmas activity. At Impact, we explore the Social Development Goals (SDGs) established by the UN. You carry out all kinds of assignments related to the SDGs, but above all, you directly activate projects that are directly donated to while playing this unique team building activity.
A fun and fast way to learn a lot about your colleagues. You play in different rounds and you learn a lot about your teammates. Who has been with the company for more than 4 years? Those who prefer online meetings over live meetings. Who comes from a family with more than 4 children. Who has ever been on a cruise vacation and much more.
This is an activity with fun facts about Christmas related topics. You are drawn into the atmosphere of the festive season while enjoying the company of your colleagues. You will take turns in who has the lead within each team so everyone gets a chance to speak out and show themselves.
Would you like to chat without obligation or know more about a specific activity? Please contact us. We look forward to your message.