The Catalyst Team Building Model shows how you can use team building as a strategic instrument in developing your employees. In this section, we'll take a closer look at skill practice.
A vital signal from you as an employer
Many companies have internal leadership programs or internships for high potential. These programs are often valuable and are well supervised from different sides. But what do you do with the rest of the potential of the other employees? What kind of signal do you send if you only invest in developing future leaders? Everyone within an organization is worth investing in. This can be done in different ways, and one of them is to practice skills that you as an organization find essential. If you do this in a playful and safe environment, you invest in future results. Investing in all employees this way and not just in the high potential can be surprising. When you as an organization identify skills that you find essential from the corporate culture, you can have the employees develop them in a targeted manner. You send an important signal about how you want to interact with each other and what behaviour goes with it.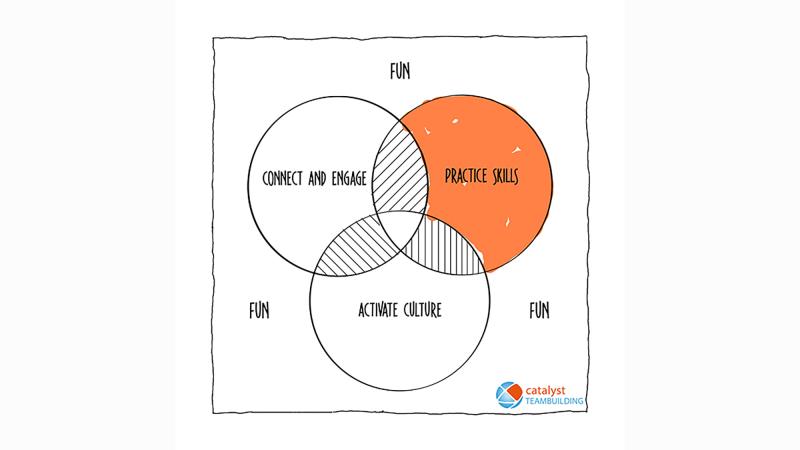 Link to practice
There are several ways to practice behaviour and train skills. One of these is to use team-building games or business games in which these skills are reflected. You can take this one step further and do a targeted debrief with the participants to see which teams have been successful and determining factors. This way, you directly link to practice.
Which skills are suitable for you to want to develop in your employees?
Simon Sinek gives an exciting look at this in the video below. He indicates that you initially learn the 'hard' skills to do your job well. By this, he means the skills you have learned during your education or in various positions because they are part of your position. If you're good at your job, you'll be promoted until you're in a position where you lead people who fill your old job. Only no one teaches you the skills to lead well. According to Sinek, these are the skills you need to be a good person. Human skills include giving feedback, taking care of your people, listening, effective confrontation, empathy, and patience.
Nice conversations as a start for different behaviour
During a team-building activity, we like to emphasize one or more skills that we include in a debrief. An example of this is listening. Using this image, we will discuss the progress of the activity and how they handled listening. But also what the effect would be of this approach in their daily work. It results in friendly conversations that can be the start of different behaviour.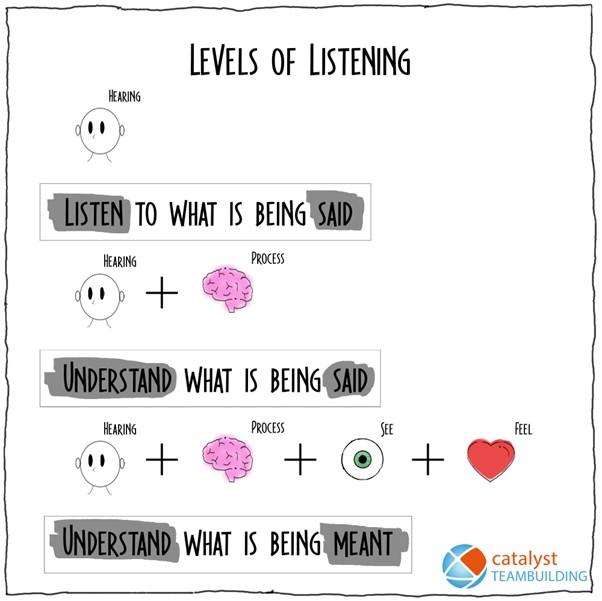 Another example is Empathy. During a VR game, one participant has a VR Headset on and is in the virtual world. The other participants have information on the table. The trick is to get the information from the virtual world to the real world and vice versa. What often happens is that the participants at the table are all firing questions at the one with the headset.

Top 4 Activities You Can Practice Skills